Ways to stay socially active while keeping the distance
It has honestly felt like forever since all this started. It's wild to think that staying home, staying in, and binge-watching every possible show is the new normal. I mean, I enjoy staying home, but something about being told to do it makes it sound a lot less fun. For me, I think the hardest part of it all is not being able to physically see my friends. Physical distancing can be isolating and both physically and mentally hard. Humans are built to interact with people, so it is important to keep in touch or to check in with the people you care about.
Thanks to the wonderful internet, here are some FUN ways to virtually hangout out with friends!
Standard deck of cards
http://playingcards.io/game/standard-deck
The possibilities are endless with just a deck of cards. You can play games such as crazy eights, kings in the corner, blackjack, etc. Just as long as someone in the group can explain to the group how to play.
Communal puzzles
There are only two types of people in the world, people who enjoy doing puzzles, or people who think it's the most boring game to play. I personally have loved doing puzzles for as long as I can remember, but if you're like me, who's mom has completely thrown out all the old puzzles in the house, then you're in luck with this virtual puzzle website. You can also have friends join in on the same puzzle you are completing.
Host a trivia night on Kahoot
For this idea, you can designate one person to host the game and have them create the questions on Kahoot. You can choose categories from shows, sports, history, or even make it personal and add questions about each of your friends! I tried this a while ago, and I learned so many new things about my friends.
Doodle 
This game is your chance to show your inner Picasso, unless you're like me who can't draw to save my life. It's kind of like Pictionary!
Bunch 
This app is a group video chat app that has a bunch of games for you and your friends to play. Games like Flappy Bird, Trivia Crack, Uno, Mario Kart, etc. You need to download this game on the Appstore or Google Store but the fun is worth it.
Netflix Party
Who doesn't love a movie night with friends? Instead of binge-watching your favourite shows by yourself, you can do it with friends. You can chat and watch at the same time. This is really helpful for me because I am that annoying friend that will ask you 101 questions about what is happening. 
Cards Against Humanity
http://playingcards.io/game/remote-insensitivity
Last but not least, this card game is always fun to play because it has the craziest possibilities of cards. Anywhere from being politically incorrect to slightly offensive jokes, but it is all for a good time. 
Here's a picture of me and my friends having our usual game night!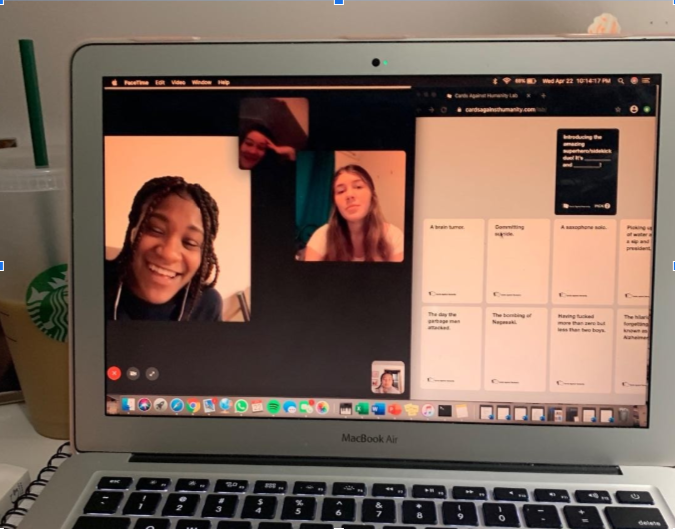 I think we can all say it together "I MISS MY FRIENDS", but after going through a few of those suggestions, I hope it might help make social distancing a little less boring!