Making the best of Ramadan while physical distancing
We are currently in the holy month of Ramadan – a time of fasting from dusk till dawn, improving our relationship with Allah (God), and striving for self-discipline through spiritual reflection. Unfortunately, the COVID-19 pandemic and corresponding physical distancing measures have taken away much of what makes Ramadan so memorable for us Muslims; the large feasts, the family gatherings, and the late-night prayers at the local mosque. 
As these distancing measures are necessary for decreasing the transmission of the virus, Muslims worldwide have taken unique approaches for dealing with the situation at hand to make this holy month feel as normal as possible. That said, I would like to share three helpful ways to maintain the purpose and excitement of Ramadan while physical distancing. Let's begin!
Create specific goals
As touched on previously, Ramadan is all about working on our relationship with Allah and achieving self-discipline through self-reflection. This can be done by engaging in various acts of worship such as performing daily prayers and reciting the Quran (the holy book of Islam). With all the extra time at home, it's the perfect opportunity to focus on evolving this relationship with Allah. Accordingly, we can be the most productive by setting specific goals on how we plan to strengthen that relationship. 
These goals should be attainable and specific. For instance, my goal for this Ramadan has been to complete each of the five daily prayers within 30 minutes of the call to prayer. Personally, this goal is attainable as I have no excuses for postponing prayers given that the school year has ended. Moreover, this goal is specific as I made clear how I plan to pray on time (i.e. within 30 minutes of the call to prayer). Other aspects of our faith we may wish to improve can include reading the Quran, repenting to Allah, and making dua (supplication) more frequently. Not only has setting such goals helped me improve my connection with Allah, but it has also enabled me to transform them into habits that I will maintain well after Ramadan ends!
Bring Ramadan home
From Pakistan to Egypt, a common cultural tradition across numerous Muslim countries is to decorate large cities and shops during Ramadan. One of the most notable items of décor is the fanous – a unique, colourful lantern that has become a symbol for Ramadan worldwide. So, why not adopt this wonderful tradition and incorporate such symbols in our own homes? After all, we know how much a comforting environment can positively impact our mood, our motivation, and our levels of stress. 
Certainly, there are several ways we can decorate our homes for Ramadan. We can create Ramadan-themed wreaths for our front doors, hang string lights around our living rooms, or light candles around our prayer areas. As for myself, I ordered some large fanous-style lanterns online and placed them around my front porch! Having mentioned online shopping, some of the best websites for finding Ramadan décor are Amazon.ca, Modah.ca, and Etsy.ca. Furthermore, décor inspiration can always be found by searching platforms like Pinterest and Tumblr. Undoubtedly, having Ramadan decorations at home has helped remind me of the joy this holy month brings every day!
Stay connected online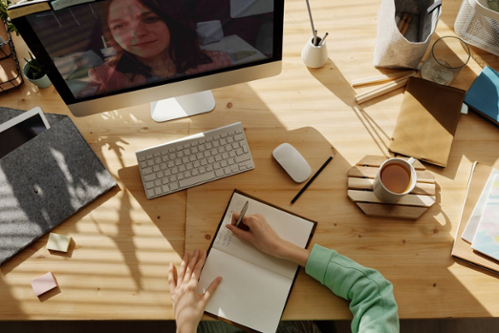 While this pandemic has taken our ability to socialize in person, it can't stop us from socializing online. For connecting with loved ones, simply keeping in touch through regular calls or video-chats can go a long way in times of worry and stress. Additionally, there are many entertaining websites/apps to connect more actively. To name a few, we can watch the latest movies with our best friends using the Netflix Party Chrome extension or compete against family in entertaining games using the app Houseparty.
As for connecting with the Muslim community, local mosques across Canada have put in extra effort to continue delivering their teachings online. Whether it be through podcasts on various Islamic topics or webinars with the local Imam, plenty of engaging virtual opportunities are being offered during this time. For example, Yaqeen Institute has an online Ramadan video series, Angels in Your Presence, which discusses the actions that cause angels to either 'praise or disgrace' us. Additionally, the Muslim Student Association (MSA) at Ontario Tech has not failed in adapting to the pandemic either as they continue to hold the popular Coffee Break with A Sheikh every Thursday on Zoom. By participating in such opportunities, I can maintain the social aspect of Ramadan in the comfort of my own home!
On a final note, there are countless ways to make this Ramadan the best it could be despite the current pandemic and physical distancing measures placed as a result. In the meantime, remember that we will get through this stressful time together. Remember that we must continue doing our part in practicing physical distancing. Lastly, remember that Allah has promised,
"For indeed, with hardship [will be] ease" (94:6).
Stay safe!