What it's like being a Nursing student during COVID-19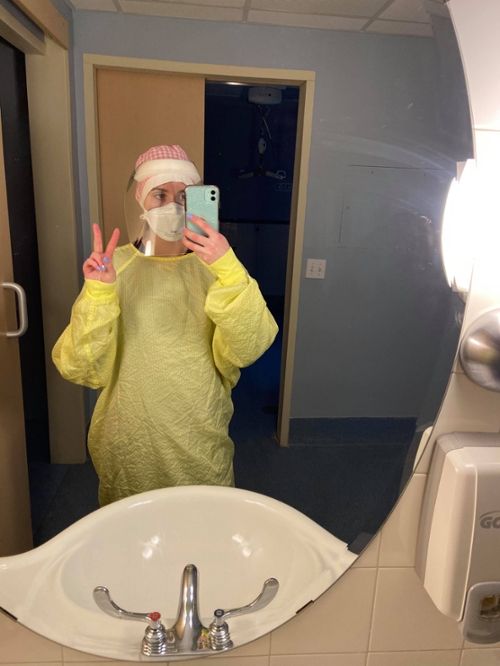 The world has come together during the pandemic to show appreciation for the healthcare workers on the frontlines who have devoted their time and strength to battling COVID-19. Through this article, we are extending our appreciation to our nursing students for their hard work and dedication to helping others. Meet Emily, a 3rd year Nursing student at Ontario Tech.
What inspired you to pursue Nursing? 
I have always wanted to make a difference in people's lives and working in the healthcare field has always intrigued me. So naturally being a nurse felt like the best fit for me.
Have you been working in a clinical setting during the pandemic? How has this been for you? 
I started working at Hillsdale Terraces as a summer student in May 2019. In February of this year, before the pandemic was prominent, they offered me the summer student job again which would run May-September. Of course, I accepted, and they called me to start early because they were having a COVID-19 outbreak at the home. This was an unsettling experience for me because none of my clinical placements could have prepared me for this. But it got better, with such a great team, enough personal protective equipment, and proper pandemic protocols I felt safe and happy to help. I have been able to stay past September and am currently still working at Hillsdale.
How has the pandemic impacted your mental health and how have you been managing it?
At the beginning of the pandemic, I was very stressed with the uncertainty of these unprecedented times. The first couple of months were very scary and did invoke some anxiety about going to work in a nursing home with a COVID-19 outbreak. My family was hesitant of me working during the pandemic but I knew in my heart I needed to. When I was not at work it was lonely during the lockdown, I feel like a lot of people can relate to this because we were all stuck at home not able to see friends and family. But what I kept thinking is everyone is in the same boat and this lockdown is to keep us safe and healthy! And I feel as though the pandemic has given me a lot of time for self-reflection and self-care. When all I could do was sit at home and go to work I had lots of time to think about future goals, plans, and expectations. I think with limited time being spent with others I have gotten to know myself better and grown as a person.
Have you had an interaction with a patient that was memorable? 
At my nursing home, this year has been different. The residents have suffered not only from the threat of the virus but they have not been able to see their loved ones as much as usual. For the first few months, they weren't able to see anyone at all, now they are allowed to have the same person visit a few times a week. Some residents do not understand why their loved ones have not come to see them and this makes the pandemic very hard for them. A resident I became very close with actually passed away this fall. They were in their late 90s and had lived a wonderful life from what they had told me and it was their time to go. The day before they passed I sat with them just holding their hand for about 30 minutes, I just had a feeling I needed to do that before I ended my shift that day. The next day I was not at work but hearing the news they passed I was so thankful to have spent that time with them and I felt at peace in a way. This was a moment I will remember forever. 
What is your course load like?
This year has been one of the most challenging school years yet. I am not sure if it is because of online school or if third year is just hard. In my program, each semester we have a different placement, this past semester I had community health nursing. I found this course very challenging because it is not the usual bedside nursing I have been mainly learning about. Also, we have 'online placement' this year, usually, we would get a placement in our community such as at a school, doctor's office, sex clinic, or many others but not this year. Luckily I only had two other courses but those were filled with many assignments and quizzes to make up for not being in class. Overall I found this semester was heavy but I feel better prepared for Winter 2021!
Do you have any study tips?
I always start the semester off by filling in my calendar with all important dates, this helps me prepare for the upcoming semester. I have learned over the years and especially this past semester that actually doing the required readings is very important. A lot of the time I skip over them to save time but in the end, I always regret not doing them so start those early! When studying for nursing tests I find that just knowing the answer is not enough, you need to understand why you're doing this, what the reason is, and how to apply it. Flashcards have been my best friend over the years, I find it is the easiest way to test yourself, and if you don't like writing them out download a flashcard app on your phone.
What has been your favourite class?
I absolutely loved my pediatrics course in second year, I even got to take advanced pediatrics as an elective for this year. It was so intriguing to learn about children's anatomy and development processes and how they differ from us. And then I was able to apply my knowledge in the clinical setting being one of the 20 students in my program to obtain a pediatric placement at Lakeridge Health Oshawa.
Are you interested in specializing in a particular area of Nursing? 
Ever since working on the pediatrics floor in my second year, I fell in love with working with children. In my experience, it was a happy atmosphere and not just about being sick in a hospital. It was great to connect with children of all different ages and their families using different forms of play and therapeutic communication. This is the reason why I want to be a pediatric nurse, hopefully working at The Hospital for Sick Children in Toronto. 
What do you like to do in your free time?
In my free time, you can find me watching Netflix. Laying in bed with a fuzzy blanket and my favourite TV show is the best way to unwind. I am planning on rewatching Grey's Anatomy because it's my favourite show and I have heard that there are a lot of funny mistakes that I will catch now that I am a nursing student. I also enjoy being active, I was on a good home workout routine that I need to get back into for this year! As well, I am excited to go skiing this winter once the lockdown is over.
What is the best part of being a Nursing student at Ontario Tech?
I love the community of Ontario Tech University. Especially my fellow nursing students, we have a big group chat on Facebook messenger and we are always chatting and helping each other out as much as possible. I can always find comfort in connecting with my peers when I'm struggling. Also, the nursing equipment and labs are very pristine, I feel grateful to be at such an innovative school.
What would you say to aspiring Nurses?
You just have to do it! Although nursing school can seem like a scary thing, it will all be worth it in the end. My 3 years of school have already flown by and next year I will be writing the NCLEX. Even though it can be stressful at times, it is such an amazing profession that I love more with every class and placement experience I have.