Student Leadership Showcase: Nuriam Abam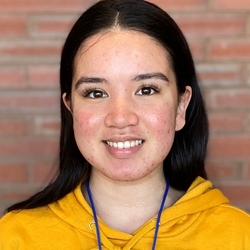 Nuriam Abam
, Fourth-Year Legal Studies. 
Nuriam was selected as the Peer Leader of the Month for July/August 2020.
How did you get involved with the Peer Leader Program?
I heard about the Peer Leader Program through Yasmin's nifty Ambassador Program newsletter updates! I am always looking for ways to get involved in extracurricular activities, specifically ones that will help me grow into a better leader in the community. To be quite honest, I never went to any of the Orientation events where one would normally see a Peer Leader in action, so I didn't quite know what to expect.  However, after attending the info sessions, I was sold! I am excited to see how I can make a positive impact on the Ontario Tech community. I always wondered how I can mark my time in University, and I was totally right in choosing this role to attempt that mark.
What do you enjoy most about being a Peer Leader?
This question kind of relates to a promise I made to my mentees; I told them that I'll try my hardest to be the support/resource that I wish I had back when I was in my first year at Ontario Tech.  As a transfer student, I, unfortunately, did not get to experience my official first year as a post-secondary student at Ontario Tech. Then, as a "first-year" transfer student, I was not assigned a Peer Leader. Truthfully, upon learning about the Peer Leader program, I was a little bummed because I imagined how much fuller my undergraduate experience would have been if I had the additional guidance and resources that a Peer Leader could have provided.  However, as I settle into my role as a Peer Leader, I find myself feeling proud that I am well on my way to fulfilling this promise by making a positive impact in my mentees' transition period.
Are you involved in anything outside of the Peer Leader program? 
Yes! I am currently the President of the BIPOC Club at Ontario Tech, which is meant to be a safe space for students who identify as Black, Indigenous, and/or Person of Colour.  Our intent for this club is to unite communities that historically have been disempowered by colonialism and white supremacist ideologies. With my passionate and dedicated team, we envision our club to serve as a tool to help Ontario Tech's BIPOC community feel more aware, empowered, and limitless in and outside of their undergrad journey.  
What is the greatest lesson you've learned during your time in university thus far?
Although a majority of us have spent years in school, I don't think we've really taken in how much of a marathon university is.  For some, whether we like it or not, this marathon holds many obstacles. Admittedly, I've had my fair share of obstacles, some of which were bigger than others.  However, throughout my undergraduate years, one thing that's been consistent is my resilience when faced with adversities. I think that this is a really important trait that we, as students, must continuously cultivate in order to be successful in our academic life and for our well-being in general. If this resonates at all with you, I am proud of you for keeping at it and never giving up!
What is your favorite study snack?
I have a weird obsession with hashbrowns.  As a new vegetarian, I am still getting used to finding foods that are both flavorful and easy to make. Those things are SO good and convenient. I like to pop a couple in the air fryer and snack on them during the lecture! Also, I like to occasionally steal a couple of dark chocolate chips from my brother's desk (Sorry, Neil!)
What does your ideal Friday night look like?
Unfortunately, at the moment, an "ideal Friday night" looks like just any weeknight, especially since the lockdown started. On Fridays, I don't have lectures so I reserve that day to catching up on my extracurricular activities and just anything outside of my academics.  
What advice would you give to your first-year self?
To be quite honest, I've consistently had trouble keeping my motivation throughout my undergraduate years. It wasn't until recently that I began to find my rhythm of doing what works best for me.  If I could give my first-year self advice, it would be to put in as much work as you can to make it easier for your future self.  
What would you say to someone who is looking to get involved?
Find something that you're passionate about! I highly recommend taking part in anything and everything that interests you in the slightest.  Even if you're still unsure of what you're passionate about, chances are you will make meaningful connections by attending these events, and these connections may even help develop a passion for you!