Student Leadership Showcase: Kiyarash Kiyani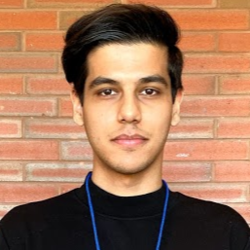 Kiyarash Kiyani, Second-Year Accounting. 
Kia was selected as the Peer Leader of the Month for September 2020.
What is your name, your program, and your year of study? 
My name is Kiyarash Kiyani and I am a second-year accounting student within the faculty of business and information technology. 
How did you get involved with the Peer Leader Program? 
When I was attending the Orientation events in my first year, I saw the Peer Leaders and  I was quite impressed by their role. I have always been passionate about supporting other students and influence their journey positively. So, I decided to join the Peer  Leader program. In the first few sessions, I realized this program is not just about helping others, it also can help me develop my skills and learn new things! Getting involved on campus was one of my major goals in the first year and I surely achieved this goal by being a part of this wonderful program. 
What do you enjoy most about being a Peer Leader? 
When my mentee is facing an issue and I help them to solve it, that is the most enjoyable thing for me. I remember how frustrated and confused I was in my first year and even a little tip from someone could benefit me to figure things out. I understand that in these unprecedented times, it can be even more challenging for first-year students. Other than that, the Peer Leader program is full of fun! I have made so many friends. There are a variety of events happening every month that keeps me connected with my mentees. 
Are you involved in anything outside of the Peer Leader program? Tell us about that. 
I am also an Ambassador where I get to attend various workshops, volunteer on campus, and just like the Peer Leader program, be a positive role model for other students. 
What is the greatest lesson you've learned during your time in university thus far? 
I was shy and had low self-confidence at the beginning, but I learned two important lessons: believe in yourself and be yourself. That is all it takes to boost your self-confidence. One of the most crucial things in university is networking. Networking continuously allowed me to find new opportunities to advance myself and find help whenever I need it. I believe high self-confidence is a huge step in enhancing your networking skills. 
What do you like to do to de-stress? 
I am mostly a calm person and do not stress a lot. However, music is what always helps to destress me. I also prefer to listen to music while studying as it helps me to focus better.
What is your favourite study snack? 
Beverages are not considered snacks but my favourite drink when studying is black tea.
What does your ideal Friday night look like? 
I would say having your closest friends around and watching a movie together with lots of food can be an ideal Friday night. Though, I do not think that is possible right now with this virus going around. 
What advice would you give to your first-year self? 
Enjoy every moment of your university journey. It might be overwhelming and challenging sometimes, but you will make your best memories at Ontario Tech. 
What would you say to someone who is looking to get involved?
Getting involved will open a new chapter in your life. There are a variety of ways to get involved at Ontario Tech so you can find many opportunities that match your interests. Once you get involved, new chances will always be on your way.