My cross-cultural exchange to Malaysia
There are a few things I am very passionate about: leadership, humanitarianism, travel, and learning about different cultures. After my first year of university, I was able to go on a cross-cultural exchange that combined my passions. Through AIESEC, a non-governmental, non-profit organization that provides youth with cross-cultural leadership opportunities, I was able to go on a global volunteer exchange to Malaysia for six weeks! AIESEC focuses on four main values; empowering others, world citizens, self-awareness, and solution orientation. The goal of the trip was to work on Sustainable Development Goal (SDG) number three, which is "good health and wellbeing". I did so many things on this trip, so to keep this from becoming a novel, I will only talk about some of the highlights.
A general outline of the project
The project name was Radiance! The goal of Radiance was to increase the outreach of healthcare towards indigenous and underprivileged communities, to ensure the wellbeing of warded kids, and to raise awareness about important topics such as regular health screenings. In order to reach these goals, different initiatives took place such as:
    Fundraisers
    Video making
    Visits to underprivileged communities, hospitals, and orphanages
 In order to learn about Malaysia and other cultures, we went on a few weekend trips and attended Global Village. Global Village is a celebration of different cultures that promotes interconnectedness and focuses on world citizen value. All of the exchange participants (EPs) were in charge of preparing booths that would display their culture. We set up booths at a mall and we even prepared a flash mob. For the accommodation, all of the current EPs stayed in a house together. Each EP was assigned to a room with up to three other roommates, depending on the size of the room. The kitchen and the living area were shared spaces.
Arrival: Getting accustomed to a whole new world
When my flight landed at the Kuala Lumpur International Airport, I messaged the AIESEC members from Malaysia (aka the Organizing Committee or OC) to inform them. They picked me up from the airport and brought me to a Mamak stall to grab a bite. Mamak stalls are outdoor establishments that are typically 24 hours and serve Southeast Asian (primarily Indian) cuisine. Throughout my trip, Mamak stalls became a staple with the Nasi Lemak, the countries' national dish, becoming one of my favourite dishes. Nasi Lemak is rice cooked in coconut milk and pandan leaf and served with various side dishes.  After our meal, the OC brought me to the accommodation and showed me how I could take the bus to the University of Nottingham Campus.
Over the next few days, I headed to the campus for the Incoming Preparation Seminar (IPS) and some training. The IPS provided the EPs with an introduction to Malaysia, project understanding, and important safety tips. The training prepared us for our respective projects.
At the end of the week, the OC took all of the EPs on a tour. We got to know each other better, learned more about Malaysia, and had fun. This full-day tour included visits to the Batu Caves, Mali's Corner, Datran Meerdeka, the Central Market, Petaling Street, Pavilion, and the Petronas Twin Towers. My personal favourite spot was the Batu Caves. After the trek to the caves, the group posed for a photo in front of the Lord Murugan Statue.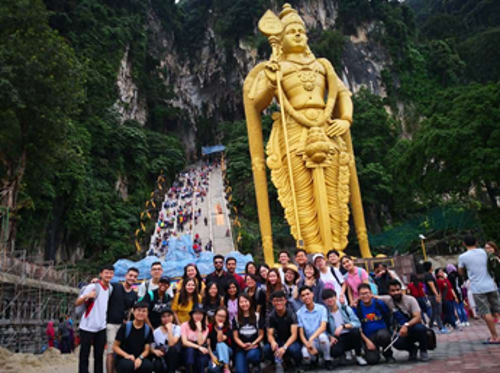 Volunteer Experience
Planning
As we only had six weeks, we had to make sure we were organized. We had to arrange our visits, our fundraisers, our budget, and much more. We centred the plans on both short and long-term goals.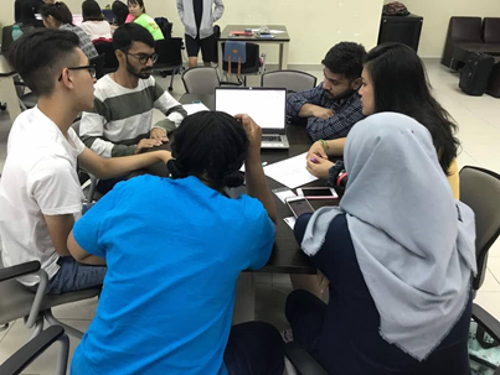 Workshop Focus
The Radiance team wanted to provide workshops for underprivileged communities. This provided us with a great opportunity not only to teach others but also to learn new things. For our first visit to the village in Broga, we made sure to get to know the kids better and spend some time with them. Future visits were focused on teaching them about health options such as food, exercise, and preventative measures. The children were super energetic and eager to learn. In addition to the village in Broga, we provided similar workshops to a few orphanages. Out of all the activities, the kids really enjoyed the handwashing activity and our food pyramid lesson.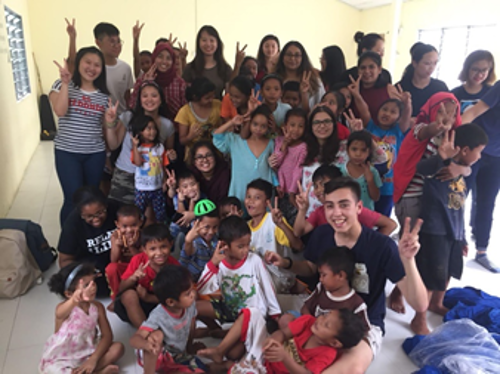 Clinical Focus
The clinical aspect of the Radiance project revolved around the Teddy Mobile Clinic, the blood clinic, and the pediatric ward. Teddy Mobile is amazing! Their goal is to provide free health care to urban poor, individuals who are homeless, and those who cannot afford basic medical care. They allowed us to volunteer on multiple occasions. For our first visit, the Radiance team volunteered to help the homeless. I was in charge of taking their vitals such as blood pressure, temperature, and heart rate.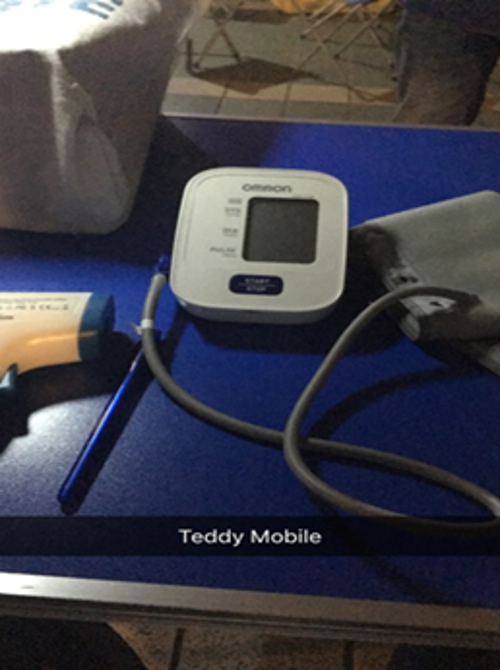 We helped set up a blood clinic at a local mall. At the blood clinic, the Radiance team was responsible for registration, encouraging people to donate blood, and preparing care packages.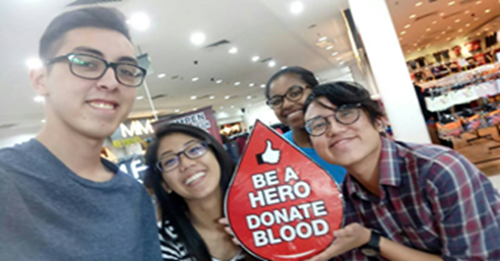 For the pediatric ward of a local hospital, we modified the different activities that were utilized at the village and orphanages. It was great to see the improvement in the children's health from our first meeting to the last. They really loved colouring and always welcomed us warmly each visit.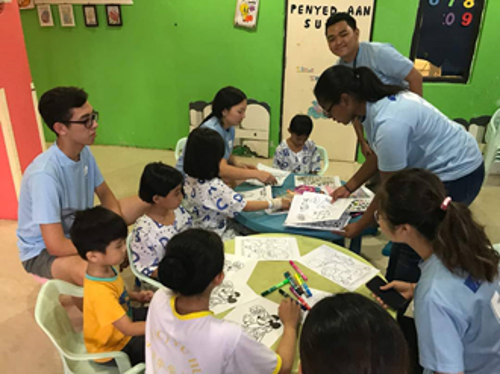 Fundraiser
For the fundraiser, we decided on a bake sale. We baked for many hours and sold the items at the mall. We broke out into selling and advertising shifts. With the money we raised, we were able to donate various healthcare items such as supplements and first aid kits to the local village.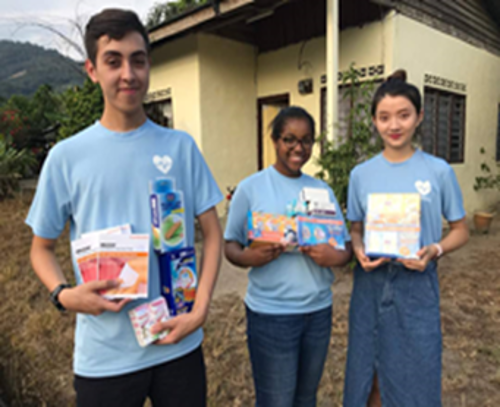 Collaboration Projects
From the very beginning, the Radiance members got very close with the Forward members who were another team that focused on quality education, which is SDG number four. We even dubbed ourselves Fordiance. Kevin and I, as part of Radiance, received permission to attend one of Forward's visits. This visit was for the World Vision Malaysia Famine Day Camp. Throughout the day, we taught kids about the importance of food and explained that some children are not as fortunate. To demonstrate this, we did not eat for the time we were there. We also carried out different activities.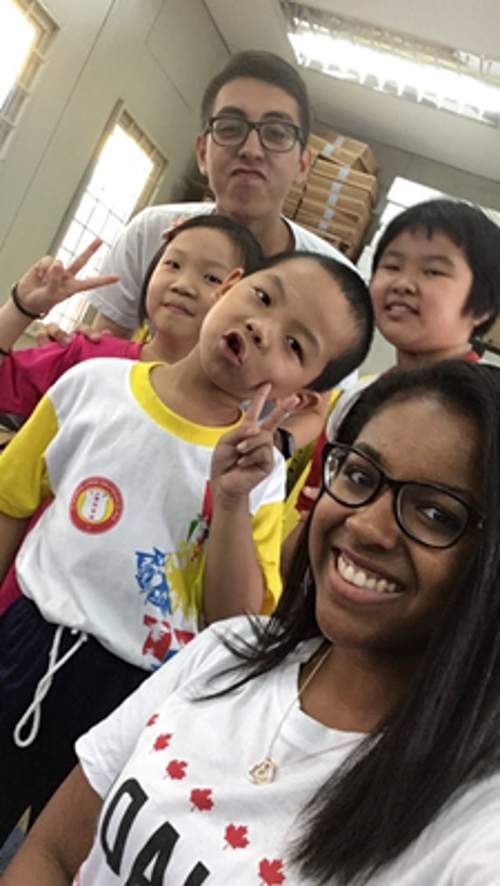 In addition to Forward's visit, I was able to help at one of the Clean Our Plates (COP) workshops. This group focused on responsible consumption and production, which is SDG number 12. For this project, we went to a school and talked about food waste. I was surprised to learn that about 72 billion pounds of food is wasted every year.
Weekend Trips
Out of the six weeks, we had two three-day weekends. This allowed us to plan overnight trips outside of where we were staying and enjoy the country's tropical climate. For our first trip, we decided to go to Penang, an island destination known for its art and food. To get to Penang we took a bus from Terminal Bersepadu Selatan to George Town, Penang. The bus ride was about 7 hours.
The artistic aspect of Penang is seen as soon as you enter the island. We visited the Batik Painting Museum. The Batik technique originates in Indonesia and involves the use of wax-resist dyeing. Batik artists are able to create vibrant images and designs because the contrast between the dyed and undyed areas creates the art. In Georgetown, there are streets covered in different murals and art pieces. My personal favourite art piece was a mural by Ernest Zacharevic called "Kids on Bicycle". The mural implemented a real bike to erase the boundary between 2D and 3D.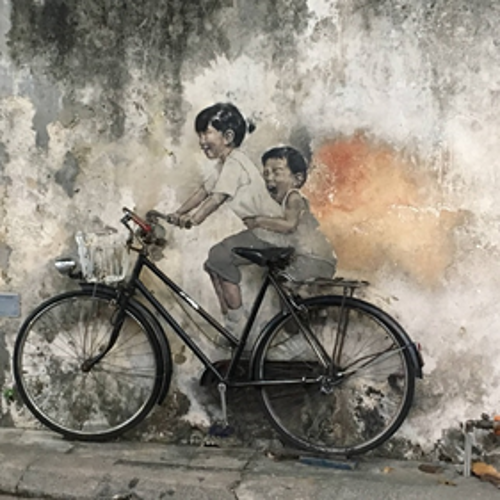 Penang's landscapes also gives the island an artistic touch. The Penang National park (Taman Negara Pulau Pinang) is used by scientists and nature lovers alike. The park is home to animals such as silvered leaf monkeys, lemurs, and leopard cats. We decided to hike from the starting point to Pantai Kerachut, a beach where the green turtles' nesting grounds are located. The hike took a few hours. We then "beached hopped" by boat to different parts of the park such as Teluk Duyung, known as Monkey Beach. After our journey to the national park, we decided to go to Batu Ferringhi to spend time at the beach and the night market.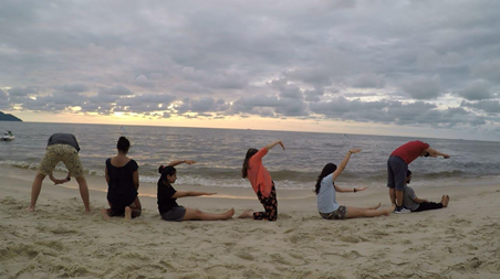 Can you guess what word we were trying to spell?
 We could not visit Penang without visiting the Wonder Food Museum. It includes replicas of Malaysian dishes. It included famous dishes such as Char Koay Teow (Flat rice noodles), Nasi Lemak, and Laksa (spicy noodle soup).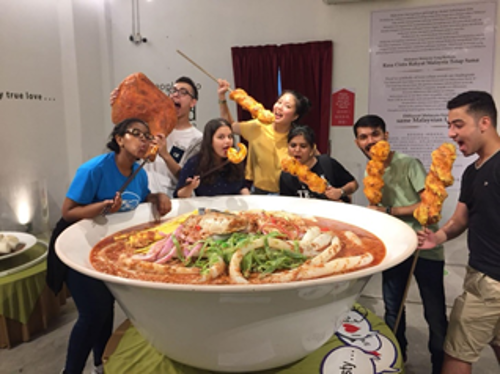 Our next weekend trip was to Langkawi, which is an archipelago made up of 99 islands. To get to Langkawi we took an 8-hour bus from Terminal Bersepadu Selatan to Kuala Perlis. We then took a 1-hour ferry ride to Langkawi. The archipelago is perfect for a more laid-back vacation thanks to the beautiful beaches and landscapes. The seafood was also amazing! We spent time at the Langkawi Sky Bridge, Langkawi Arts in Paradise 3D Museum, Telaga Tujuh Waterfalls, Dataran Lang (Eagle Square), and Pantai Cenang, a beach perfect for water sports. My absolute favourite attraction was Island Hopping. Each island had its own charm. My favourite island to visit was Pulau Dayang Bunting, or Lake of the Pregnant Maiden, because of the story surrounding the island. The island looks like a pregnant woman.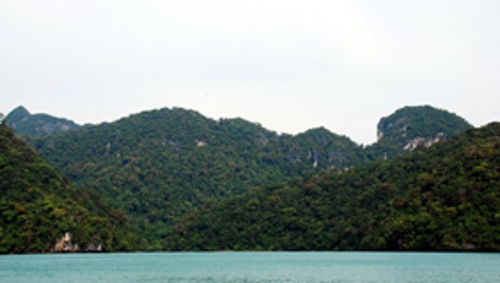 All good things come to an end
 To end off the six weeks adventure, some EPs and the OC decided to explore Broga. We had a great time at the Aves World Broga Petting Zoo and the Sak Dato Temple. This Taoist temple was so peaceful and had statues of the Chinese zodiac animals. After hiking to the top of the hilltop and crossing a suspension bridge, you could see the statue of Sun WuKong, the Monkey King, and an amazing view of Broga. The next morning we woke up early to go hiking at Broga Hill. We made it to the top of the summit just in time for the sunrise.