Life of a medical laboratory technologist student during the pandemic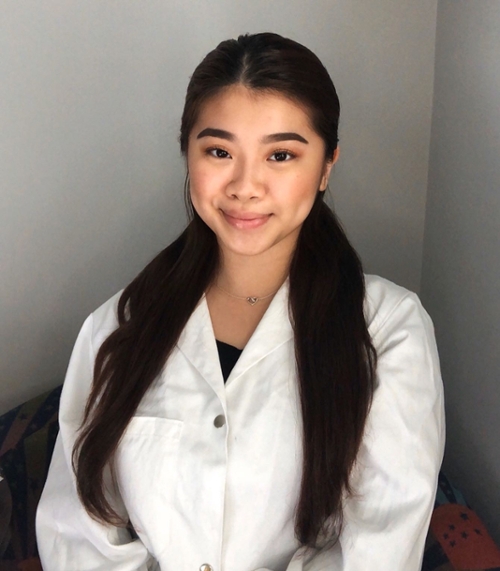 Jenny is a 4th year medical laboratory technologist student at Ontario Tech but, some of you may know her as @medlabmini on Instagram. While some of us have the privilege of remote learning at home, Jenny is out in the field completing her clinical placement. 
What is a medical laboratory technologist (MLT)? 
A healthcare professional that works behind the scenes to perform and interpret laboratory test findings. These results are important for physicians making clinical decisions. 
Why did you choose to study to become an MLT?
Honestly, I never knew much about medical laboratory technologists until reviewing the programs Ontario Tech offered. I knew I wanted to do something in the medical/science field, but I wanted to enter a field that I would feel secure in finding a job right out of school. I just happened to come across the medical laboratory science program at Ontario Tech and learned that right after graduating from the program, you are eligible to write the CSMLS national certification exam to become a registered medical laboratory technologist. I took a leap of faith and applied for the program and 4 years later, I am so grateful I chose this route. 
What is the course workload like for you?
Anyone in the medical laboratory science program can tell you the workload is quite heavy! I found year 3, semester 1 the most challenging. We spend a lot of time in the lab, in fact probably more than we do in lecture. It can feel very overwhelming at times as we have both lab practicals and theory exams for each class. It definitely requires a lot of discipline to ensure you are on top of your work. However, the professors at Ontario Tech are absolutely amazing and they are there to guide and support you. I am so grateful for my amazing professors and fellow peers that made my undergraduate experience unforgettable.
What are your rotations like as an MLT?
We have a total of 5 disciplines we rotate through: Microbiology, Transfusion, Histology, Hematology, and Chemistry. Each rotation is about 5-7 weeks long and can either be at one hospital site or multiple different ones. Our clinical placement site essentially mimics a full-time entry MLT, as we go in for 8 hours a day. 
What is a typical day in the life of an MLT student?
During first to third year, it is all about juggling your labs and theory lectures. With every class, you have both labs and theory. So, it is important to keep up with your lectures so that you are able to apply the knowledge in your labs. This requires daily readings and prepping for your labs. It is incredibly important to thoroughly prepare for your labs as coming prepared will help you finish everything in a timely manner and leave room for you to ask all the questions you have. I have always found that I learn best by doing and these labs are just that!
How has it been for you working in a clinical setting during a pandemic?
This pandemic has been really hard for all of us, and I initially was worried about entering my placement during these times. However, the hospital follows all the necessary health protocols. We are required to wear our regular PPE as always such as googles, lab coats, gloves, and in addition we of course wear a mask at all times. Prior to our shift, we fill out a health screening form to ensure we are clear for work. I am so proud to be joining this profession as MLTs are the ones behind the COVID-19 testing!
You have an Instagram account @medlabmini, what inspired you to start your page?
I started the account during the beginning of the pandemic. I was bored at home as I was unable to find a job and so I decided to take up something new. Starting this page was definitely out of my comfort zone, but looking back now I am so glad I did. I've always loved helping out my friends with study tips and so I thought this would be a great way to offer these tips to everyone! Joining the science/study blog community on Instagram has really opened my eyes to all the different professions out there. I got to learn so much more about different career fields and first-hand insights into what they do at their jobs. When I was in my first year, I tried to go on Youtube, Instagram, and Reddit to find raw and real advice and tips for this program. For example, how the workload is, how placement works, study tips, etc. However, because this profession is not very well known, there was not much information out there. My ultimate goal for this page is to spread awareness about this amazing profession and for both current and prospective MLT students to have insight into how the program is really like! On my Instagram, I like to post on my stories of interesting things I see in the lab and kind of like a day in my life every day. I want to be able to show it all, the ups and downs because the program is difficult but very rewarding. 
What are your top 3 study tips?
One-page summary sheets
I love creating very concise summary pages. These include important formulas, reference ranges, critical values, etc. This comes in handy during exam seasons! I like to make summary sheets for every mid-term I have and so this helps refresh my mind of what I learned earlier on in the semester without having to go through all my lecture notes in-depth when it comes time for finals.
Creating tables
I found that organizing my notes in tables helped so much, for me it really helped tie in all the information together. For example, creating a table to study all the stains in histology was the best method for me. 
Flashcards
Either physical or digital! My favourite website for creating digital flashcards is Quizlet. Flashcards are excellent for on the go studying. 
How do you maintain good mental health as a student?
Reaching out for help has honestly helped me so much. After reaching out to Ontario Tech's Student Life I was able to connect with a student wellness coordinator and was able to get the support I need. Dealing with anxiety and depression had a tremendous impact on my school life. Through therapy and support from my professors, I was able to better cope with these internal battles I faced.
Lean on to the people you trust
It is easy to isolate yourself from everyone, but talking to close friends has helped me get things off my chest. 
Seeking out therapy
Everyone will find different ways that can help their mental health, but I encourage you all to give therapy a try if you are up for it. I felt very reluctant at first because of the stigma behind therapy. Therapy has taught me a lot of skills I can incorporate into my daily life that taught me how to live with anxiety rather than trying to fight it. 
Giving yourself a break
I found myself behind the books so much that I developed unrealistic expectations of myself. Find your balance between studying and having fun! I was able to slowly break myself of these expectations by being more kind to myself and making sure that I filled my university memories with wonderful experiences with friends.
What do you like to do to unwind? 
I just recently got a kitten, so definitely cuddling up or playing with my furry friend at the end of a long day helps relieve all the stress. Due to the pandemic and from choosing a placement far away from home, I am unable to see my close friends and family in person. So, I love video calling family and friends at least once a week to catch up. Also, creating content for my Instagram page has been another outlet of mine.
What would you say to aspiring MLTs? 
You have to put in the work.
You have to stay on top of your studies
You have to want to succeed. 
When times get tough and you feel like "I am not smart enough" or that "I can't do it", push harder! Those are some of the things I have said to myself countless times throughout the program when I felt discouraged. Continuously remind yourself that you deserve to be in this program and you will become a registered medical laboratory technologist one day. As I am soon to be graduating in April 2021, I look back and smile at how much I have grown since the day I stepped foot at Ontario Tech. All I have to say is, all your hard work is paying off, keep on pushing, and enjoy the ride because it will go by so much quicker than you think!