How I get ready for back to school
The weather is teasing us with hints of fall temperatures and stores are capitalizing on back to school sales. Deep thoughts on whether this summer was wild and fun and plans for the following summer are circulating our thoughts. Social media feeds are exploding with CNE pictures and your starting to regret all the dollar drinks you ordered from McDonalds. Ya'll know what this means? City boy/hot girl summer is over and hot boy/girl scholar year is ON!
Personally, the start of a new academic year has always been exciting and equivalent to 'New Year's Resolutions'. I realize this makes me sound like a massive nerd but somehow academia is where I thrive. I mean this meme practically sums up my entire life: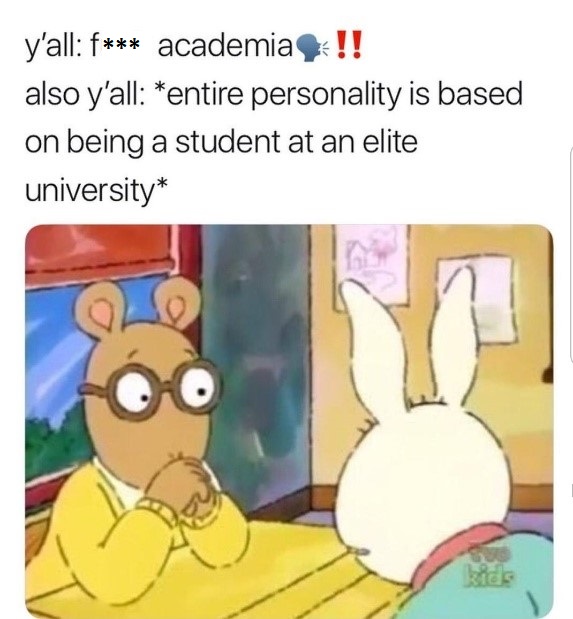 I always find myself going through a bit of a ritual before starting school, and if you're interested in what that may be, keep reading!
Spring cleaning my room
My study space is basically my room. I occasionally study in the library but I've found that my preferred study space is my desk in my room. At the end of the day whatever space allows you to be most productive is where you should be spending the majority of your time studying. When I'm studying, I need a clutter free space because I find it harder to study when my room feels like a trash can or an industrial storage space. So, before school starts, I like to clean out, donate, and reorganize so that I don't find myself procrastinating because I'm put off by my messy room. For me, building good study habits from the start is essential to keep the momentum going throughout the semester.
Purchasing the necessary supplies
Buy everything you know you will use or you really need. That can be anything from a good pillow, to notebooks, pens, electronics, a school bag, some new clothes, etc. Personally, I will be buying one or two 'nice' outfits for the semester because when you look good, you feel good. In addition, I only purchase school supplies I know I typically use but I also will reuse old supplies (e.g. notebooks). Aesthetic can be nice, but don't waste money on things that are not practical and you know you have little use for. Live like a student now, so you can live your best life in the future.
Finishing my TV shows
I have two shows that I am currently watching and to prevent them from being a possible distraction during the semester, I'm going to finish them before school starts. Don't get me wrong. That doesn't mean I won't be watching anything during the semester. I will definitely be keeping up weekly as some of my shows come back this fall and occasionally watching random episodes here and there, but I don't want to be distracted binge-watching a TV show or thinking about it in the back of my head.
Updating my Google calendar
I upload my entire schedule and all my professor's office hours (and room numbers) so that I do not have to go searching through my syllabi. It's incredibly convenient to have everything in one place and helps to efficiently plan my schedule. It also makes it easier to visit office hours when you need to. You should also put down any events, volunteering and/or extracurriculars you have planned.
Buying a locker
This is pretty self-explanatory. It's great for storing your jacket, lunch, gym bag, etc. It can keep you hassle free during the day and it's only 30 dollars for the whole year. You can purchase them on the Locker Program website.
Plan your workouts
It's much easier to go to the gym if you already have it in your schedule. Plan out which days you want to go because I swear, most of us spend so much time thinking about when we're going to go that we just don't end up going.
Create a folder on your desktop for each course
Having folders on your desktop makes searching for all your course work convenient and forces you to see them as you think about procrastinating away on the internet. Plus, I think it just gets you in the vibe. It's the small stuff that adds up!
Read through your syllabi
This is extremely important. Save the syllabi into their respective folders you just created on your desktop ;) Then read through them and mark down all important dates whether that be on a google calendar, a remind app, your personal calendar/agenda etc. It's important to know these dates to plan out not just your studying but also your personal life! Tests and assignments are your grades and you don't want poor planning getting in the way of that.
And lastly, I write down my major goal for the end of the academic year. In the past years it's been a certain GPA, working in a lab, and extracurricular goals. This year, because I'm in fourth year, I'll be applying to various graduate programs. My major goal therefore is acceptance into one of these programs. The whole point is that once I have my major goal, I PHYSICALLY write out why I want it, how I will work hard to get it, and how I will encounter barriers and failures and what I'll try to do to get over them. Knowing my 'why' is very important in getting through my year and to remind me why I'm doing what I'm doing. This seems like such a silly thing but it's having a deep and truthful conversation with myself. It's really therapeutic and a good way to orient myself. It's also a good way to sort out your thoughts and fun to look back on at the end of the year.
Work hard, dream big and get that degree!