How getting involved allowed me to travel to Vancouver
"How can I get involved?" 
I asked myself this question as I scrolled through Facebook while sitting in UA. 
Fast forward to a month later, when I nervously headed to my audition as a presenter for a team called Enactus Ontario Tech. To my surprise, I got an email the next day to say that I was selected. At the time, I didn't know exactly what Enactus was - and you might not either. Enactus is a global competition based around entrepreneurial action towards social and environmental solutions for different things.
Enactus Ontario Tech currently has 4 projects that the team is working on and that we presented at the National Exposition in Vancouver, BC in May:
Project Haiti
Tim's Cup
Mental Health Box
In my first year, I got to be apart of the team that presented these projects at the Enactus competitions - this was a pretty big deal for me. I was still new, and I didn't realize then how supportive and enthusiastic the group of individuals who had started this group at Ontario Tech were. There are three stages of this competition, Regionals, Nationals and Internationals. The regional stage was held in Hilton Mississauga, where I, along with my group had presented two of our projects to the judges. After this, we moved on to the National Exhibition in Vancouver, BC. in the first week of May.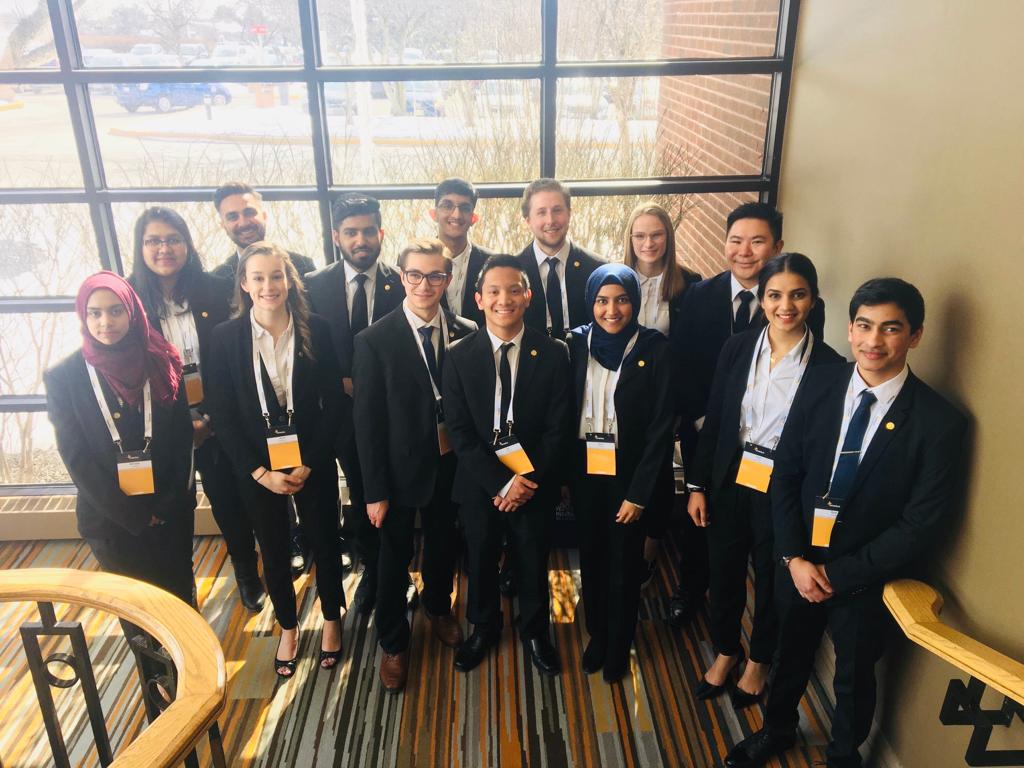 Nationals - Vancouver, BC.
This trip was possible and funded gracefully by the Brilliant Catalyst, the entrepreneurship hub on campus, as well as other sponsors. We also had a huge amount of support from President Steven Murphy and the Student Union. This was my first time travelling without my parents, and being the youngest among the whole group was kind of intimidating at first. We reached Toronto Pearson Airport for our 9 a.m. flight, and after 5 hours of travel to Vancouver International Airport, it was still only 11 a.m. due to the time difference. Everyone was super exhausted, but our travel wasn't done yet - we continued on by subway to our hotel.
Vancouver Day One
Once we arrived, we had a team brunch at Boston Pizza which was extremely refreshing after all the travelling. After brunch, we proceeded to do some work on the projects and the presentation. We did at least 20 runs the of our presentation (by this time I was totally over it). 
Vancouver Day Two: Opening Ceremonies
On day two, we had some time to go sightseeing before the opening ceremonies for Enactus the same day. The opening ceremonies are one of the fun parts of the competition where they announce who is presenting at what time the following day followed by a lot of chanting from different universities. Our chant was "OT, WE SEE, NOTHING BUT… VICTORY!" Another highlight of the opening ceremony was that there was a surprise video from Prime Minister Justin Trudeau wishing us good luck at the exposition and encouraging us to keep going, this was honestly one of the best things as I am a huge fan of JT.
At night we ended up practicing until around 11 p.m., and then went for dinner at a horrible time and ate poutine at a fast food truck since that was the only place open. 
Vancouver Day Three: Presentation Day
The next day was PRESENTATION DAY!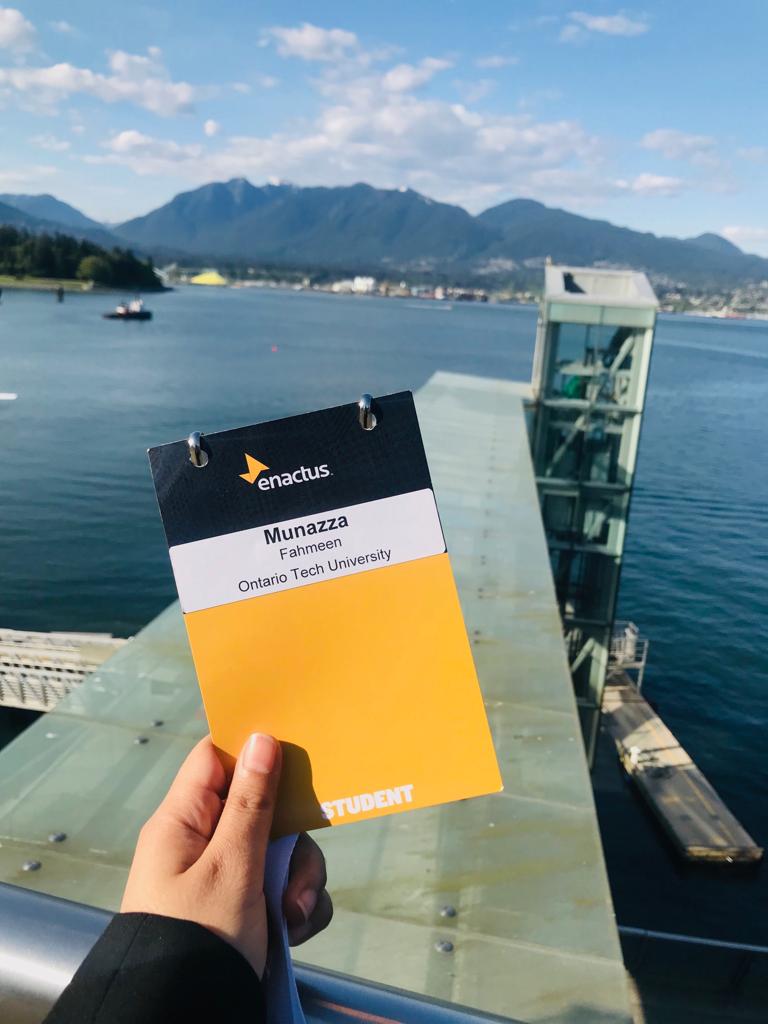 The day we have all been waiting for, our presentation was at around 1:30 p.m., I changed into my heels and wobbled as I was quite nervous, everyone was giving some kind of motivational speech every 2 minutes to boost our confidence. The presentation went well, we had practiced a lot which is why we didn't really ruin anything. After that we did some very very amazing team photoshoots in our formal suits - I'm pretty sure we were the best #SQUAD out there. We also did some jumping in mid-air pictures which came out quite good after approximately a million tries.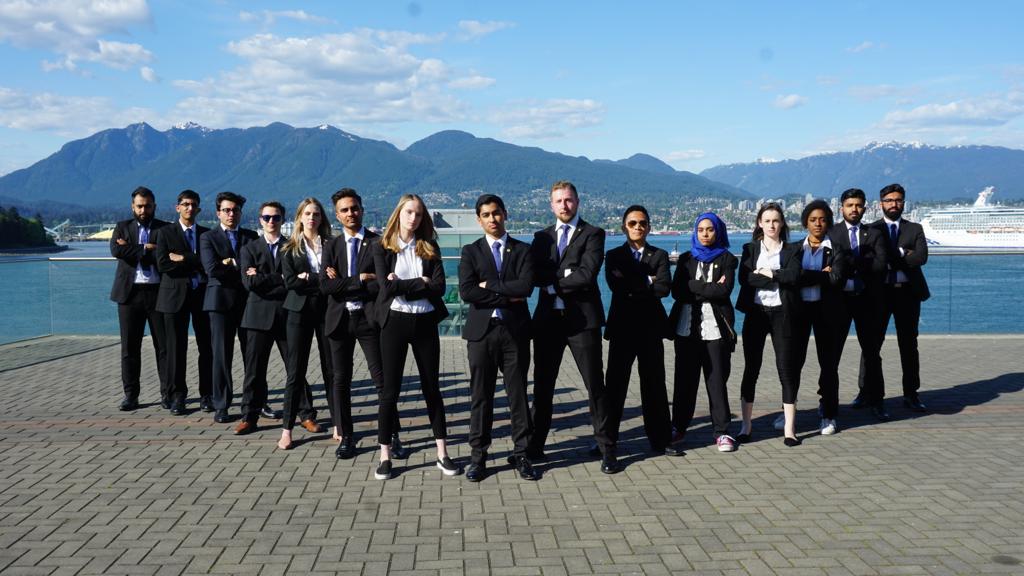 In the evening we attended the awards ceremony which had unbelievable energy. After this we went for a team dinner to conclude the competition stage that everyone had worked on for the longest time for it to be possible. The co-presidents of Enactus, Kim & Kyle, gave a very heartfelt speech about how they started off Enactus Ontario Tech just last year with just 4 people and now the number had grown to 15. Honestly, HUGE shout out to them for making what Enactus Ontario Tech is today!
Vancouver Day Four
The next day we decided to hop on bikes and explore the city, we ended up going to English Bay beach and carved 'ENACTUS ONTARIO TECH U' in the sand. I along with my other team mate, Jenna, had ditched the bikes halfway through and opted for a cab. Honestly though, I do not regret that even a bit because the cab driver told us about every single place we needed to visit in our remaining one day.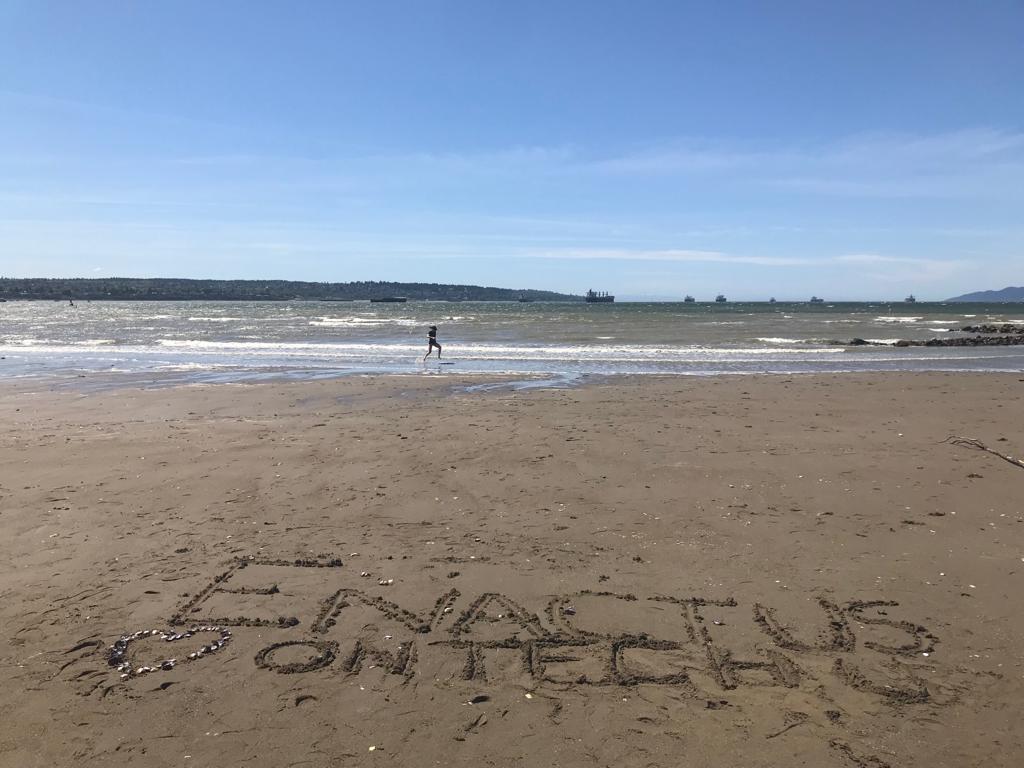 At night there was the after party for Enactus alumni and others which I decided to ditch and spend in my hotel room. 
Vancouver Day Five: A messy travel day
The next day was the day of our flight. Everyone's energy was super low, and I didn't want to leave the nice and peaceful weather and scenery of downtown Vancouver. I woke up early to go stroll near the Waterfront one last time, then had some time in the hot tub and pool along with everyone else.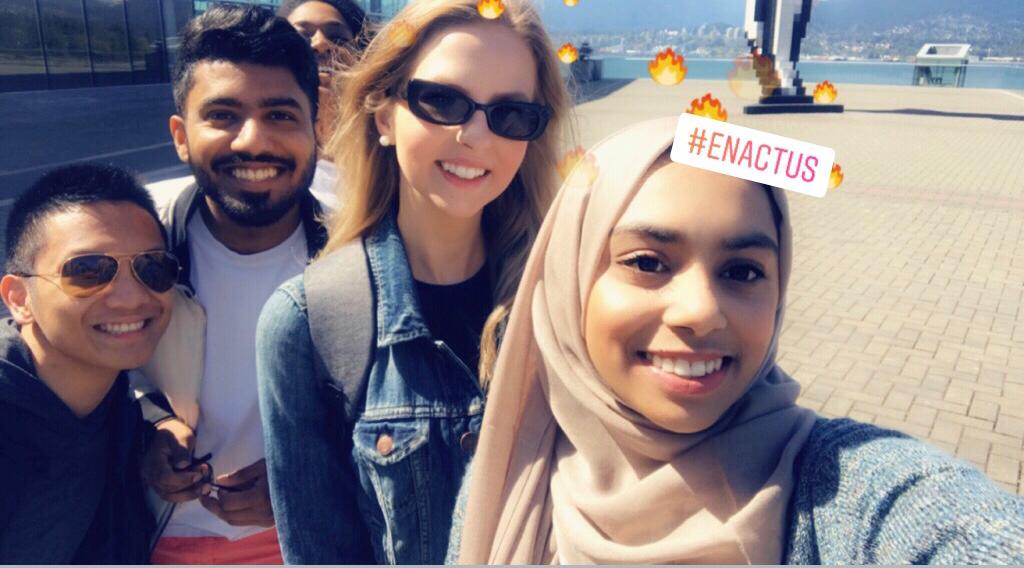 We still had some time to spare before going to the airport, so we checked out of the hotel and kept our bags in a storage room so we could venture out for an hour. I along with four others went shopping for souvenirs - this is where things got chaotic. We ended up venturing just a bit too far away from the hotel, knowingly, but continued on a mission to get waffles and ice cream. 
We place our order and keep an eye on our watches. It's been about 10 minutes and we keep getting calls from the hotel that we need to leave for the airport right now. Now, we're 20 minutes away and too far to walk, so we opted for a cab once we grabbed our ice cream orders.
When we reached the hotel everyone else had already left, we were planning on taking the subway back to the airport, but we were running out of time so we opted for a cab once again. As we approach security we put the bag of waffles and ice cream on the counter (we never had time to eat them) and as it came out the other side after being scanned the whole security counter had ice cream spilt over it… Oops. The security literally looked at us like
Thankfully, they allowed us to finish it off quickly. It was such a mess.
This is not where the story ends. As we got to the flight, it was a two aisle plane and we had all been separated and got middle seats (the WORST), and there was no space for luggage, so we had to send our bags over to checked luggage.
We finally arrived back home in Toronto at 2 a.m. and that was the end of it. I don't think I'm ever going to forget an experience like this. This trip to Nationals was one of the most adventurous and challenging things I've done - completely outside of my comfort zone. This trip helped me engage with numerous inspiring individuals who make me want to improve myself in so many ways.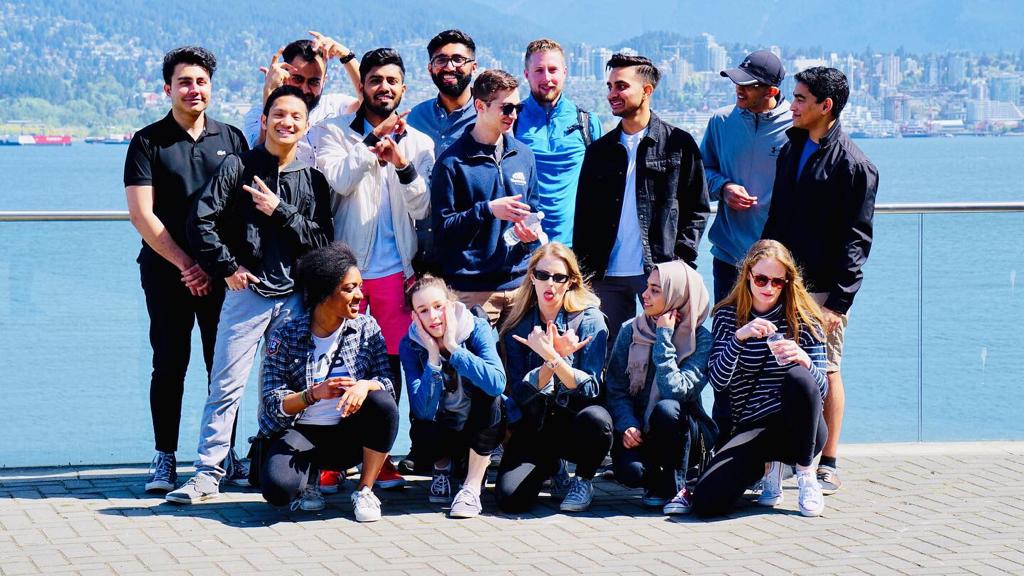 I believe that being involved on campus is something that everyone should do, you never know what position, benefits or experience you are going to get out of it if you do not get involved. I am still involved in Enactus, as well as some other clubs, and am currently I am co-handling She Leads project. 
If you're interested in learning more about Enactus, you can read more about our projects below or follow Enactus on Instagram!
Enactus Ontario Tech Projects
The first project is She Leads, an initiative that aims to encourage and inspire women to pursue leadership as well as entrepreneurship initiatives on campus by giving them resources, mentorship, as well as Q&A panels from other female leaders in the community. 
The second project is called Project Haiti, this project supports students in Haiti by giving them hands-on experience using technology and learning from it. We are currently in the process of working with another organization in Haiti to build a learning centre for Haitian students. 
The third project is called the Tim's Cup project. This project is focused on properly recycling the Tim Horton's coffee cups as they are initially not recyclable due to the wax coating on the inside.
Another project we are working on is called the Mental Health Box initiative, this project is focused on giving the students at Ontario Tech boxes that have mental health resources in them which are distributed during exam time free of charge.