An Ontario Tech Staple: The Peer Leader Program
What is the Peer Leader Program?
The Peer Leader Program is a peer-mentoring initiative that elevates student success and engagement by fostering bonds among peers contributing to the strong sense of community at Ontario Tech University. 
Who are the Peer Leaders?
Peer Leaders are students certified with extensive training in communication, collaboration and teamwork, equity, problem-solving, self-awareness, and more. The best part is they bring forward their unique experiences to connect with peers and assist in their personal, professional and academic development. They help develop the well-known tight-knit community at Ontario Tech University.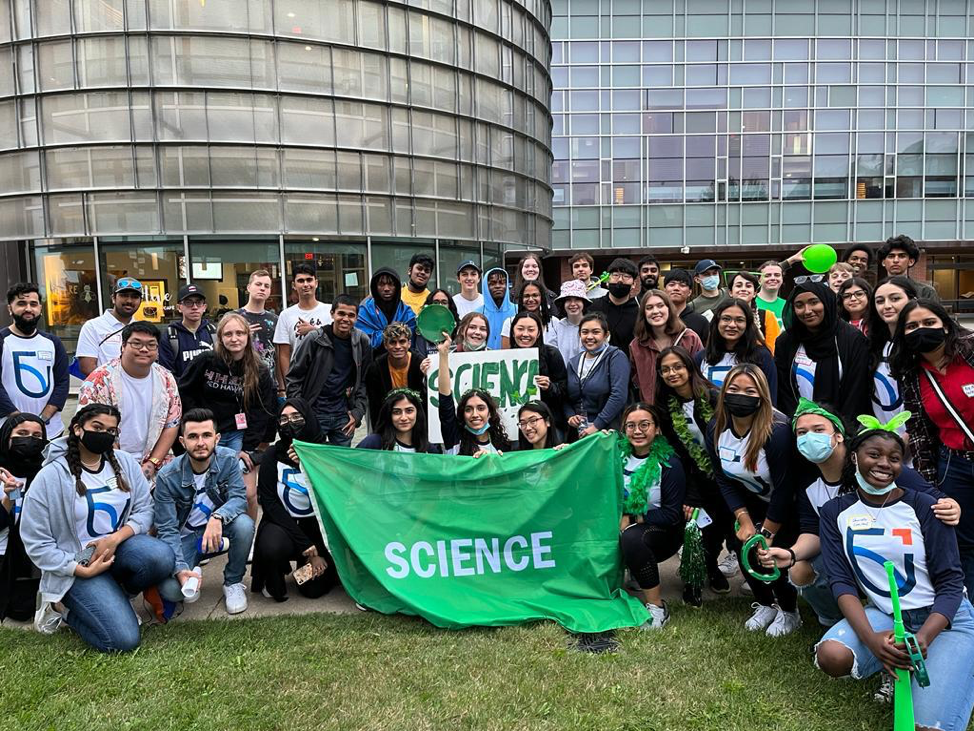 What do Peer Leaders do?
Peer Leaders will support student mentees by:
Answering students' questions about the university and life as a student.

Sharing their own experience as a student with their academic journey.

Creating opportunities for students to meet new people and have fun.

Providing referrals to services and resources available to students on campus.

Sharing information about campus events and activities on campus.

Helping students to achieve personal success through planning and goal-setting.

Offering encouragement and guidance throughout the year.
Why should I be a Peer Leader?
The Peer Leader Program is one of the best ways to get involved in the school community and meet new people. You are presented with unique opportunities and the responsibility to mentor a group of students in facilitating their success. 
How do I sign up to be a Peer Leader? 
The Peer Leader role runs from March to April of the following academic year. Student Life recruits candidates for various Leadership Positions between December and January. 
What is the Required Training?
Some roles, including the Peer Leader position, require students to complete at least Ambassador Level One Training. Students can sign-up with the Ambassador Program anytime and will have various opportunities to complete the training throughout the year. For more information, visit the Ambassador page or contact ambassadors@ontariotechu.ca
Email

peerleaders@ontariotechu.ca

about any general inquiries. 
How do I match with a Peer Leader?
Rest assured, all new, incoming students beginning classes in September or January will be automatically enrolled in the Peer Leader Program and matched with an upper-year student from their program and/or faculty. If a student has not heard from their assigned Peer Leader by the first week of classes or for additional questions about the program, please complete the Program Inquiry Form. 
I've been matched to a Peer Leader, however, I am seeking a different Peer Leader. 
A student can ask to be reassigned to a new leader if they believe their peer leader is not a good fit for them.  Students can complete the Program Inquiry Form, and we can work to find a more suitable match.
Peer Leader Program - Inquiry Form
I am an Upper Year Student, can I be matched with a Peer Leader? 
While upper-year students are not automatically matched with a Peer Leader, this mentoring relationship can still benefit students in any year of study. Any Ontario Tech student can 'opt-in' to the program and be matched with a Peer Leader at any time throughout the fall or winter semesters by completing the Program Inquiry Form. 
Should I sign up?
The decision is totally up to you! The Peer Leader Program is a wonderful opportunity to get to know other students and build connections within the school. The friendships you will make will go a long way in supporting your university career and assist in your development as a student. If you have any questions, please email  peerleaders@ontariotechu.ca about any general inquiries!