A tour of the food services at Ontario Tech
When I walked into the UB cafeteria I was pleasantly greeted by the kind eyes of staff members smiling under their masks, happy to be making meals. I was also immediately captivated by the aroma of delicious pizzas, sandwiches, and so much more. The vibrant signs, meals, and produce on display were eye-catching and delicious looking! Needless to say, I was so excited to finally be back in the UB cafeteria after being off-campus for so long due to the pandemic. I got the opportunity to have a tour of the UB cafeteria and the Hive and sit down with Chef Manager Simon Yan and Chef Edwin Cook to learn more about the food services at Ontario Tech.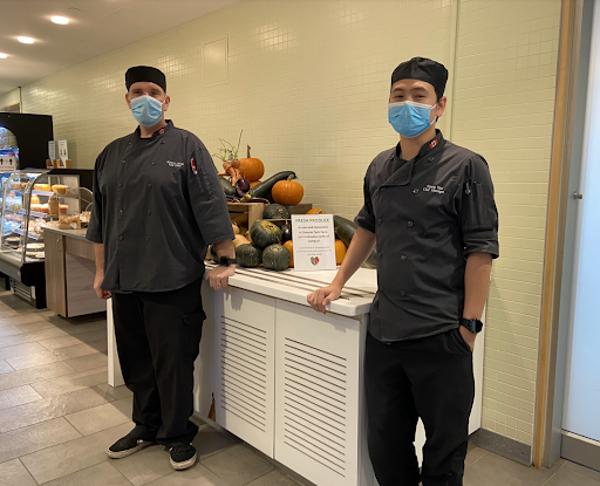 When did Dana Hospitality LP start working with Ontario Tech? 
View this post on Instagram
We started here in the summer of 2020 and we started rebranding, changing everything from staff to the menu, to where we source our produce. We first opened in September 2020 for the fall semester. 
Can you tell us about your brand's motto "scratch - fresh - local" and how it's reflected in the menus at Ontario Tech?
It's in the name: scratch, everything made here is from scratch. Fresh, we don't order anything frozen in. So everything is refrigerated, not frozen. Local, we get what we can from the farm and we have other suppliers that bring in local supplies as well!
The Ontario Tech Eats social media page promotes sourcing local produce and proteins, how local is local? 
View this post on Instagram
All of our chicken is halal and supplied by Maple Leaf Canada. Our dairy and butter is supplied by Gay Lea which is owned and operated by dairy farmers and has over 1400 dairy farms across Ontario and Manitoba. Our turkey comes from Hayter's Farm in Dashwood, Ontario just west of Guelph. Whatever we can get locally, we will. 
Their fresh produce is also grown and harvested at a farm just 3 minutes north of Campus!
Tell us more about your "Around the world" culinary adventures!
View this post on Instagram
They're basically chef-submitted recipes from different countries. Every 2 weeks we promote different countries here. India was one of them, and that chef submitted a butter chicken recipe that we replicated, sold, and promoted here. Pre COVID we used to do guest chefs, so instead of a chef submitting a recipe, the chef would come in and cook right there on the spot for you. Now it's submitted recipes by chefs who have cultural backgrounds in whatever cuisine it is and we're able to recreate those. 
Many times we're out shopping at ethnic stores to get those special ingredients because not everything is provided by our wholesalers. We have a lot of passion when it comes to preparing these types of meals. 
Can you tell us more about the "Eat Fresh Rewards app" and how students can access it? 
View this post on Instagram
You can download the Eat Fresh Rewards app, submit your credit card information, and pick your location. It's updated daily with our daily features. You can view the menu, add to your order, select your pick-up time and location, and it's all paid through your credit card. 
The Eat Rewards app is available on: 
What can students expect from the menu as the holiday season approaches? Do you have any holiday-themed treats or drinks planned? 
View this post on Instagram
With Halloween just behind us, we did some spooky Halloween treats. We made Rice Krispies in the shape of a pumpkin. With Christmas around the corner, we'll probably do a traditional turkey and stuffing type of dinner. As well as some fun holiday treats and sweets. The staff has so much fun making these. We let the staff be creative which is what's fantastic about our company. They empower us to cook on our own like they give us guidelines for us to work within but the freedom for the chefs is amazing. It's very exciting for us. It's seasonal, it's fresh, it's what's available, it's created around what the consumer wants. 
Tour 
Here were some highlights of the tour I got! 
Take-home options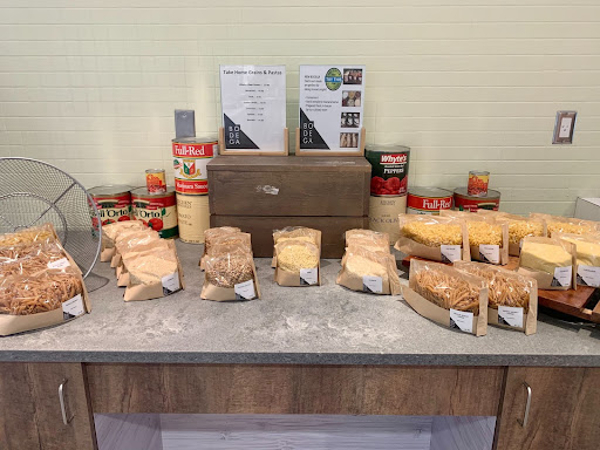 Cooking at home is made easy with take-home grains, pasta, sauce, and produce options available for purchase! I thought this was so neat and unique! It gives shoppers the option to go shopping for meal ingredients without having to leave campus which is amazing and super convenient.  
Fresh and fast section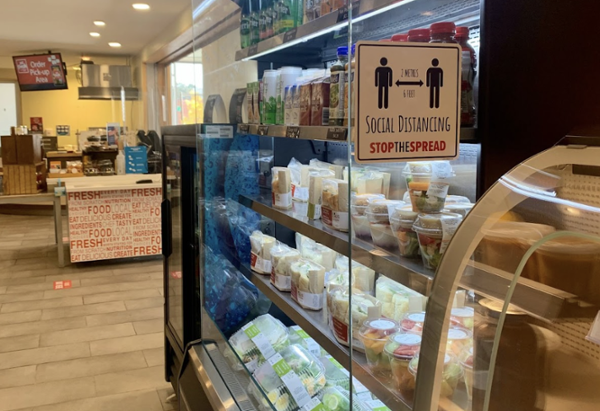 To my pleasant surprise, I learned that all of the packaged items in this section are prepared in-house! Usually, when I see salads or sandwiches packaged like that I assume that they've been pre-packaged and probably aren't fresh. The fresh and fast station in the UB cafeteria truly lives up to its name!
House-made bakery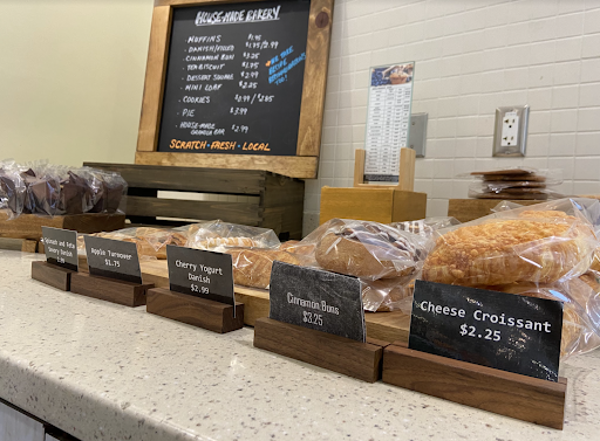 The house-made bakery was impressive and offered a wide variety of baked goods! Treats included muffins, danishes, cinnamon buns, and more. Again everything is made in-house and packaged by staff. Nothing beats fresh muffins out of the oven!
Time to taste test
Iced Coffee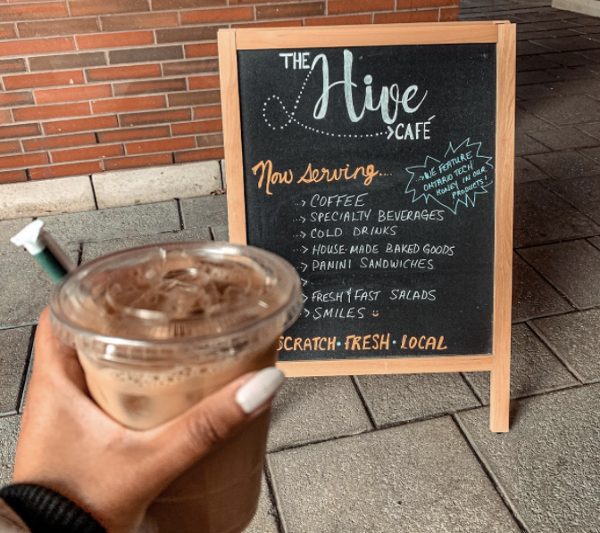 After our tour and conversation, I worked up an appetite. I got an Iced Coffee from The Hive and it was delicious! I've never had Iced Coffee that was so flavourful and tasty. I couldn't stop raving about how good it tasted. It was like dessert in a cup!
Grilled Halal Chicken Burger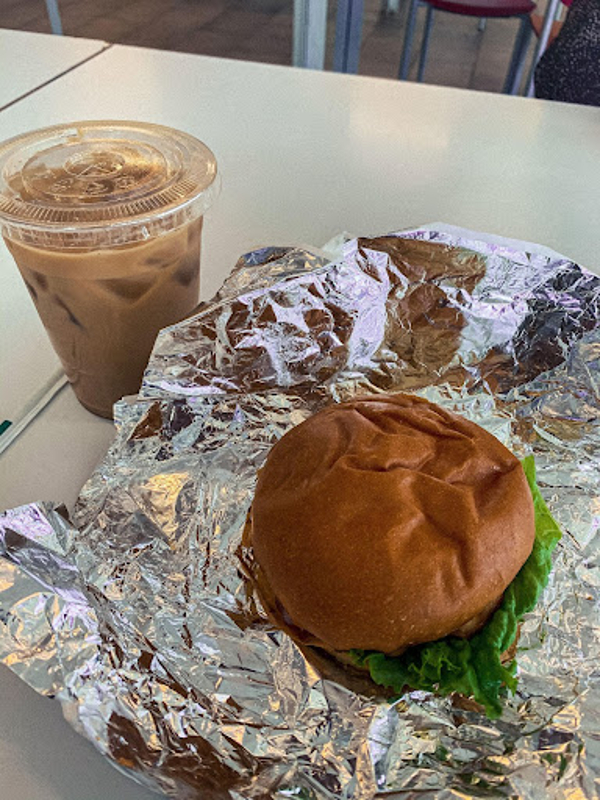 Under that glorious bun is an even more glorious grilled chicken breast. Yes, you read that right, chicken breast! It was topped with my favourite veggies and spicy mayo made in-house! It was truly a savoury masterpiece. 
Final thoughts
Overall, my experience at the UB cafeteria and the Hive was nothing short of exceptional. I could tell that the staff take great pride in their work and are always looking for ways to make the student experience better whether it be through creating international dishes, holiday treats, or specialty items. Everything is made in-house and packaged by staff which was beyond impressive. 
As a commuter student, it's hard to always pack a lunch and keep it with me throughout the day when I also have to carry a backpack, laptop, lab materials, etc. I feel like Dana Hospitality's motto of "scratch - fresh - local" eliminates my guilt for buying lunches every day because I know that I'm consuming fresh, healthy, and tasty ingredients. 
How can students stay connected with Ontario Tech Eats on social media? 
You can follow them on their social media accounts for the UB cafeteria and the Hive. 
They are open to questions, comments, and requests via direct messages on social media!