Quotes that will take you from ordinary to extraordinary
I love reading self-improvement books. They do not only inspire you to make positive change, but they are also very motivational and humbling. A lot of the books I read include quotations from various people who created positive change in the world. Here are some of my favourite quotes! 
If you think you are too small to make a difference, try sleeping with a mosquito. - Dalai Lama
One thing that I have learned from being a student leader is that anything you do, both big or small, to create a positive impact in one's community is significant. Too often people tend to believe that they are not capable of doing great things. This quote proves otherwise. Whenever I have self-doubts, I think of this quote. 
Our lives begin to end the day we become silent about things that matter. - Martin Luther King Jr.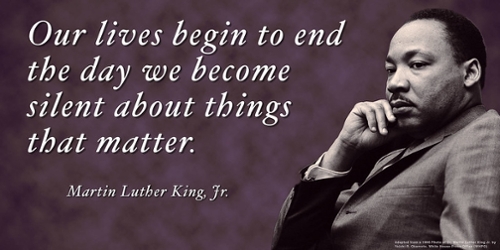 There are a lot of injustices and issues that exist in the world. I believe that if we do not stand up for what is right, there will be unfortunate consequences in society. For example, climate change is a serious problem we are facing. I am really thankful that there are conservationists and environmentalists that are fighting to protect the Earth. Without them, we would be in far worst shape. 
If you can't feed a hundred people, then feed just one. - Mother Teresa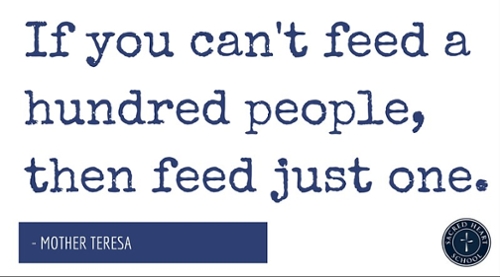 Similarly to the preceding Dalai Lama quote, doing anything you can to make a positive difference is helpful. I also feel like this quote can apply to more than just creating a difference in society. This quote can also reflect people's journey to self-improvement; take baby steps when you are trying to achieve your goals. 
You must be the change you wish to see in the world. - Gandhi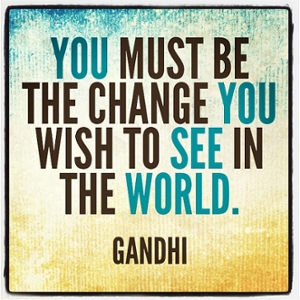 In more blunt terms, I believe this quote is telling people to not be hypocrites. Complaining about society will not make it change. Instead, each and every one of us holds the responsibility for our actions. It is up to us to take steps forward in order to prevent dragging society backwards. 
"If something is important enough, even if the odds are against it, you should still do it." - Elon Musk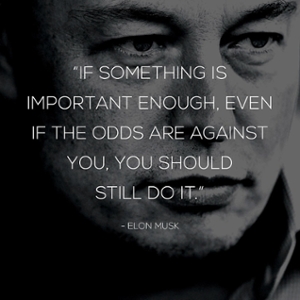 Allowing yourself to take risks and saying yes to opportunities is not the easiest thing to do. However, taking risks is important. Firstly, it answers the question "What if?". What if I did end up going on that cultural exchange? What if I joined that club as an executive member? You will never know until you try. Also, self-development only comes when a person steps out of their comfort zone. For example, if you want to be a better public speaker, you can not expect to do so by not practicing in front of an audience. 
Man sacrifices his health in order to make money. Then he sacrifices money to recuperate his health. And then he is so anxious about the future that he does not enjoy the present; the result being that he does not live in the present or the future; he lives as if he is never going to die, and then dies having never really lived. - The Dalai Lama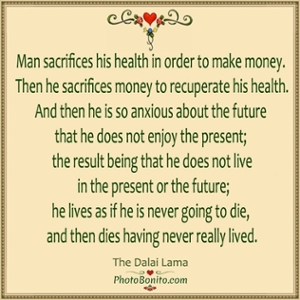 My take on the quotation: We live in an extremely fast-paced world where it is difficult to live in the moment. Because we are not living in the moment, we miss a lot of things that are happening right before us. It is always important to take some deep breaths and enjoy the present because life is too short not to. 
I hope these quotes have given you insight or motivated you!
References (in order of appearance):
[1] Dalai Lama, & Mahali, B. (2018). Dalai Lama Mosquito Quote. Retrieved from             https://www.flickr.com/photos/beingaash/40720580212
[2] King, M. L., Mission Geneva, & GPA Photo Archive. (2016). Our lives begin to end the day we become silent about things that matter. Retrieved from https://www.flickr.com/photos/iip-photo-archive/24328642146
[3] Mother Teresa. (2015). Mother Teresa Quote. Retrieved from https://www.flickr.com/photos/nonprofitorgs/22778835563
[4] Ghandi, M., & Strupler, N. (2013). Be the change! Retrieved from https://www.flickr.com/photos/strupler/8339831658
[5] Musk, E., & Ansari, J. (2017). Elon Musk Quote. Retrieved from https://www.flickr.com/photos/mjahangeer/32114034110
[6] Dalai Lama. (2016).
Sacrifices
. Retrieved from
https://www.flickr.com/photos/spiritwisdom/31053403561