Our favourite holiday recipes
We wanted to wish our Ontario Tech community a happy holiday season and show you some ways we will be celebrating with our favourite recipes! In addition to this article, check out our Holiday playlist:
Peppermint Bark 
One of the tastes that just say the holiday season is peppermint! My favourite part of this season was baking with my mother which includes making peppermint bark. The best part of this recipe, seen at the 5:37 minute mark, is breaking the peppermint; my mother used to give me a hammer and go to town!
- Angelique Dack
Homemade London Fog 
- Rachel Lynds
Potato Gratin 
This rich and delicious side dish is perfect for the holiday season. It is quick and easy, yet it tastes gourmet. 
- Fatima Bah
Crème Brûlée 
This recipe is one of my favourites, it gives the exact about of sweetness and satisfaction that is needed to just relax during the holiday season.
- Munazza Fahmeen
Christmas Lights Cupcakes 
Every year my brother and I like to get creative with our Christmas baking. Here we made super easy Christmas light cupcakes. We used Betty Crocker's Super Moist Chocolate Fudge Cake Mix for our cupcakes. Frosted them with Betty Crocker's Vanilla Rich and Creamy Frosting. To make our string lights we used black coloured icing topped with M&M's!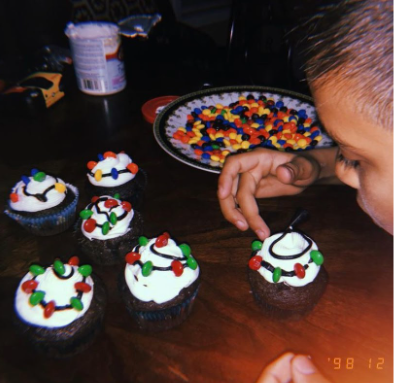 - Sylvia Harnarain