My Favorite Pasta Recipe
Pasta…a worldwide favourite food but especially very well known to post-secondary students. Personally, I love pasta because you can make it in so many ways and this recipe is especially simple yet different! So, here is my go-to creamy tomato and spinach pasta recipe:
Servings: 4
Time: 25 minutes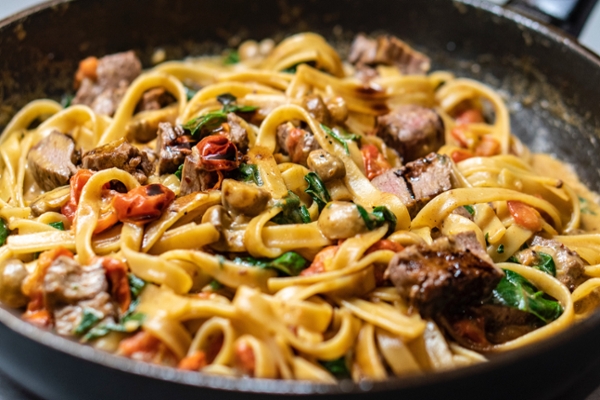 Ingredients:
-1/2 lb penne pasta
-1 onion
-2 cloves garlic
-1 tbsp olive oil
-1 15 oz can of diced tomatoes (I use less than this and use fresh tomatoes but you can add as much as you like)
-1/2 tsp dried oregano
-1/2 tsp dried basil
-1 pinch of crushed red pepper (optional)
-1/2 tsp salt
-black pepper to taste
-2 tbsp tomato paste
-1/2 cup of water
-2 oz cream cheese
-4 oz spinach
-1/4 cup grated parmesan
Directions:
Boil a large pot of water on high heat
Add the pasta to boil until tender
Drain the pasta
While the pasta is cooking, dice the onion and mince the garlic (this is for the creamy tomato sauce)
Add the onion, garlic, and olive oil to a large skillet and sauté over medium heat until the onions are translucent.
Add the diced tomatoes, oregano, basil, crushed red pepper, salt, and black pepper to the skillet.
Stir to combine.
Add the tomato paste
Add ½ cup of water to the skillet and stir until the tomato paste has completely mixed.
Turn the heat to low.
Cut the cream cheese into a few pieces then add them to the skillet.
Use a whisk to stir the sauce until the cream cheese has fully melted.
Add the parmesan to the skillet and stir until it is melted.
Add the spinach to the skillet and gently stir it into the sauce.
Finally, add the pasta and stir until it is coated in the creamy tomato sauce.
Taste and adjust the salt and pepper as needed. Serve warm.
Credit: